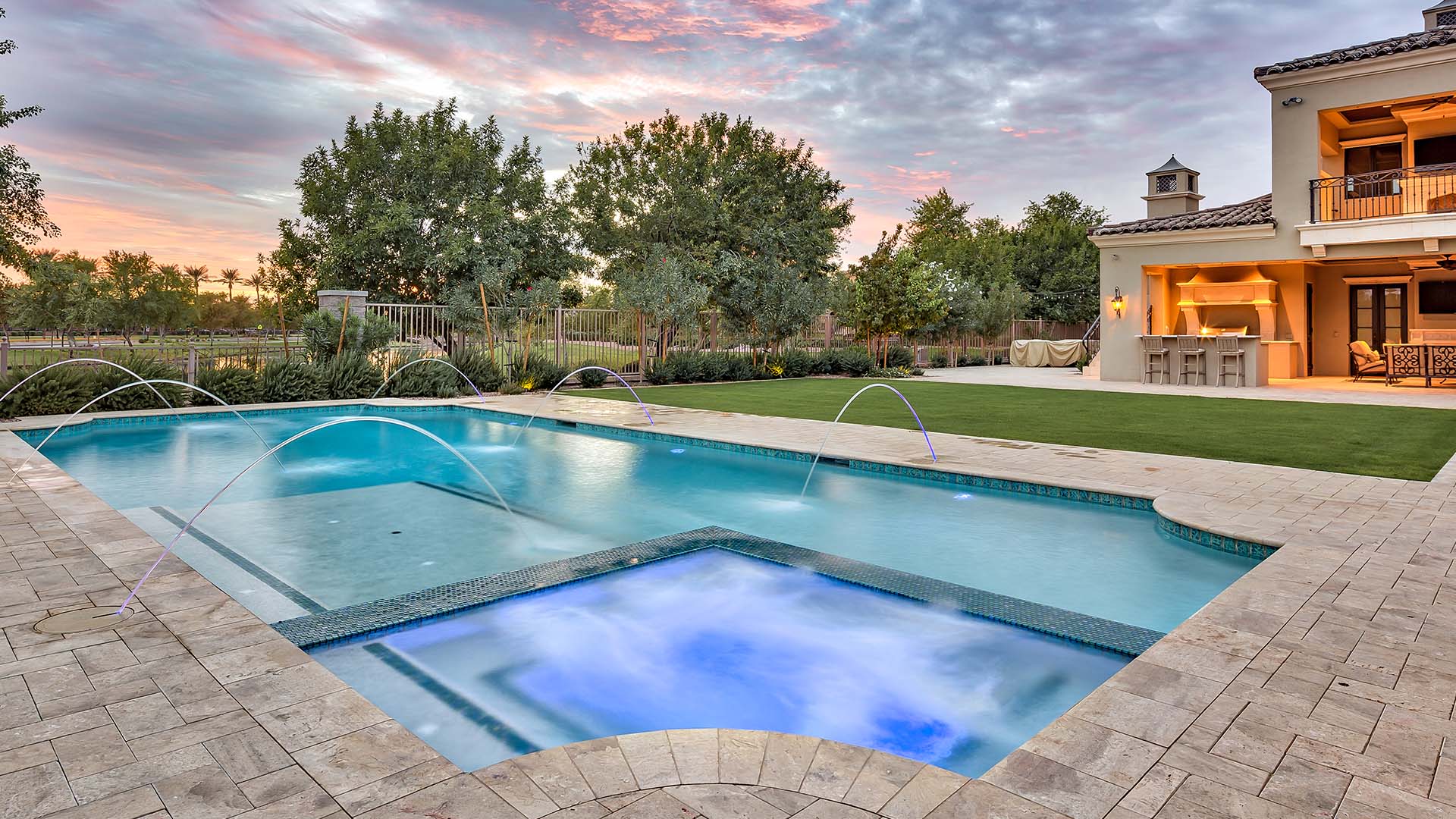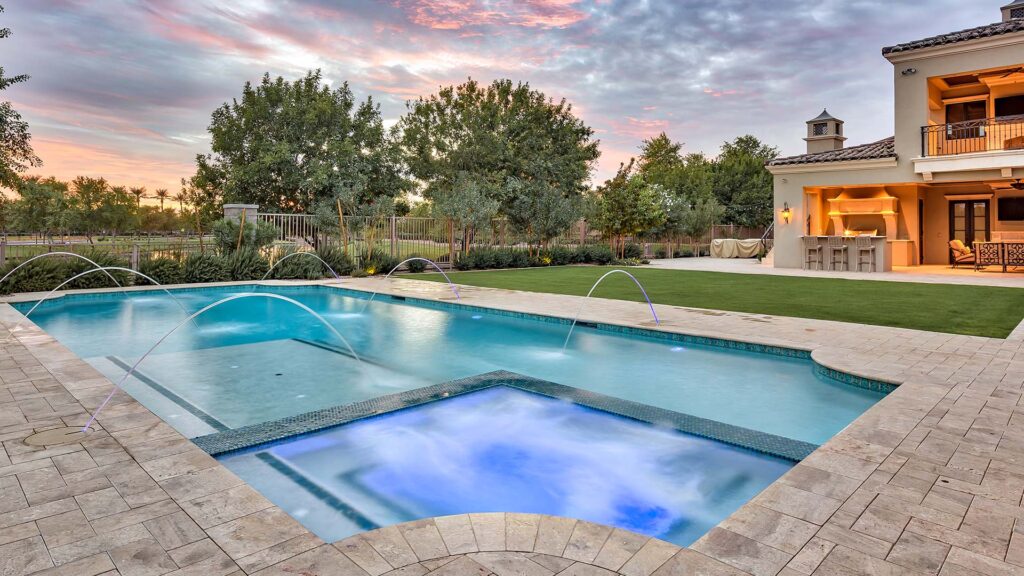 Thinking About A UNIQUE Swimming Pool Renovation?
With spring just around the corner, it is a great time to take a look at your swimming pool and think about a few renovations for the upcoming year. We can all agree that the past year has presented challenges that no one expected. But those problematic times also created a clear image of what was most valuable to each of us. And for many families in the Phoenix area, having an outdoor space to relax and enjoy was a critical ingredient to finding peace. So here are a few ideas to guide you in giving your swimming pool a bit of an upgrade or facelift to make your coming summer more fun and enjoyable for the entire family.
Resurfacing
Replacing the interior surface of your pool can create an entirely new appearance. As you might guess, a pool's interior does wear out and become rough and damaged over time. The exact life expectancy of your pool interior will depend on the material the surface is made of, the quality of your pool water, and the level of care that the surface has gotten over the years. But in any case, a resurfacing project will provide a new look, new life, and years of enjoyment to your pool.
When you are searching for just the right new surface, make sure to check out all of your options. Plaster has been the go-to material for decades. But more contemporary surfaces include aggregate material for added texture and interest. You can also opt to add decorative tile, tile mosaics, stones, or shells to create a truly custom finish for your swimming pool.
New Waterline Tile
Waterline tile in your swimming pool is both functional and beautiful. As the name implies, the row or two of tile is around the top of the pool at the waterline. This is one of the areas of your pool that can present cleaning challenges. However, having waterline tile makes the cleaning process much more manageable. The smooth tiles are easier to keep clean because they do not have all of the aggregate interior surface texture. You can easily brush away any buildup on the tile in minutes.
Waterline tile also offers the opportunity to add a splash of color or interest to your pool from a decorative perspective. It is also a great way to introduce colors or tiles you are using in other parts of your outdoor living space. Think about integrating the same tile on the pool waterline you are using on your BBQ island or a water feature in another part of the yard. And if you have added a tile mosaic to the pool, you can complete the upgraded look with a complementary waterline tile.
Water Features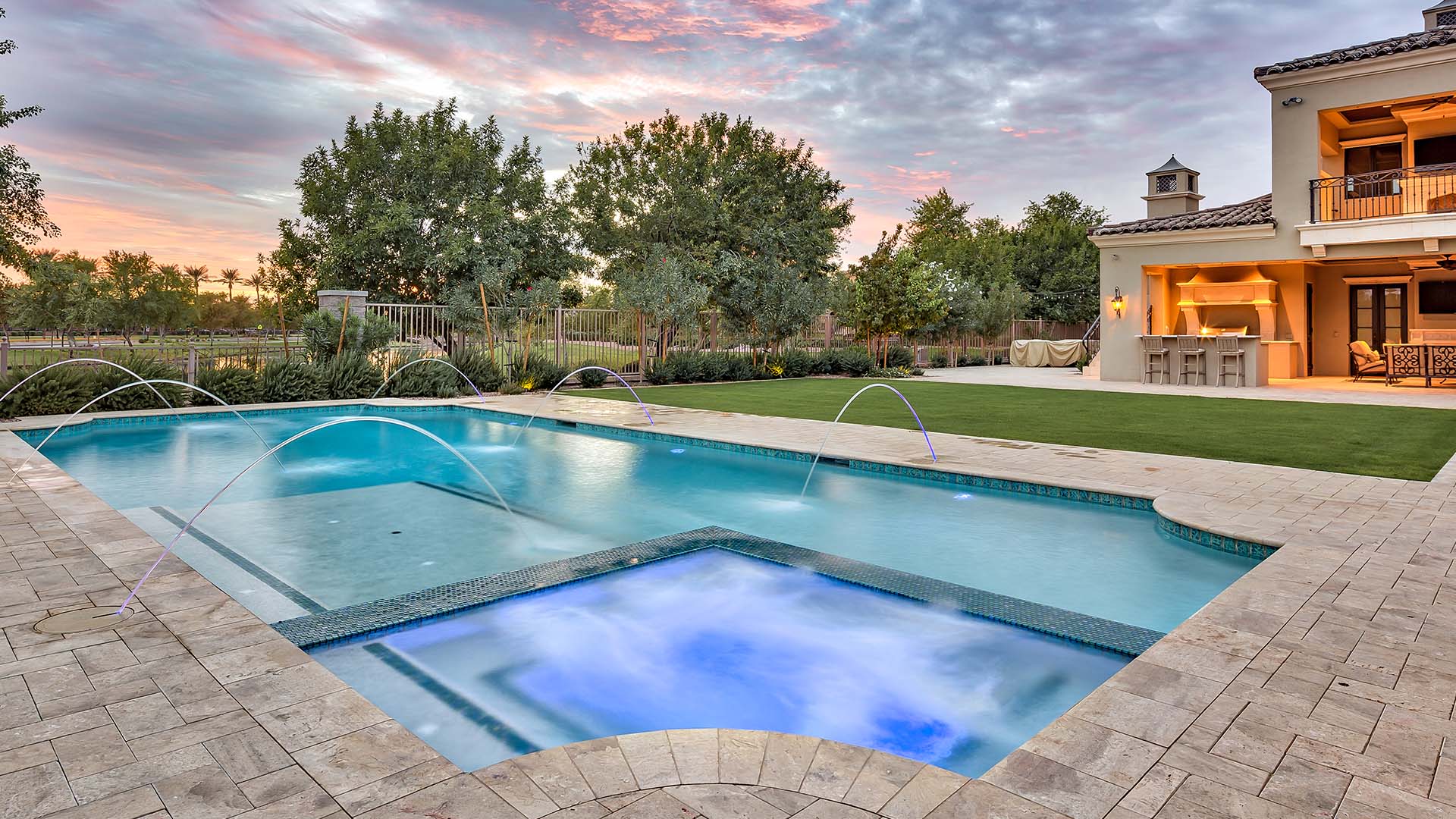 Your options for adding a water feature to your pool are almost unlimited. The most traditional choice by far is a natural stone waterfall. These features have been gracing the edge of lagoon or freeform tropical swimming pools for decades. And a waterfall is sure to add to the tropical oasis feel of your pool. However, if you are more a fan of the contemporary look, a sheer descent water feature is a better choice. These walls of water offer a very visually intriguing look while remaining true to the clean lines and less is more modern style. And to think totally outside the box and pool, deck jets are a fun option. These water features are actually mounted in your pool decking. Each jet sends a single stream of water into the pool. And the addition of lighting features can make this water feature even more impactful at night.
New Lighting Options
If you would like to enjoy your pool more in the evening hours, new lighting might be just the upgrade for you. Modern LED lighting is far more energy-efficient than older light options. And the results can be staggering compared to the single bulb fixtures found in older pools. Think of the old-style light fixture as a flashlight illuminating your pool. It was nice but not very exciting. But the new LED light fixtures offer the capability to create what looks like a laser light show in your pool. The colors, patterns, and options are impressive. Picture a red, white, and blue theme for the Fourth of July and your child's favorite colors on his or her birthday. And for added fun for a family staycation, you have a rainbow of options at your disposal.
To learn more about upgrading your pool for the coming summer, call 480-969-1911 or click here to schedule your free initial consultation with a member of the UNIQUE design team. Our pros are here to help you add fun and value to your pool that you will enjoy for years to come.