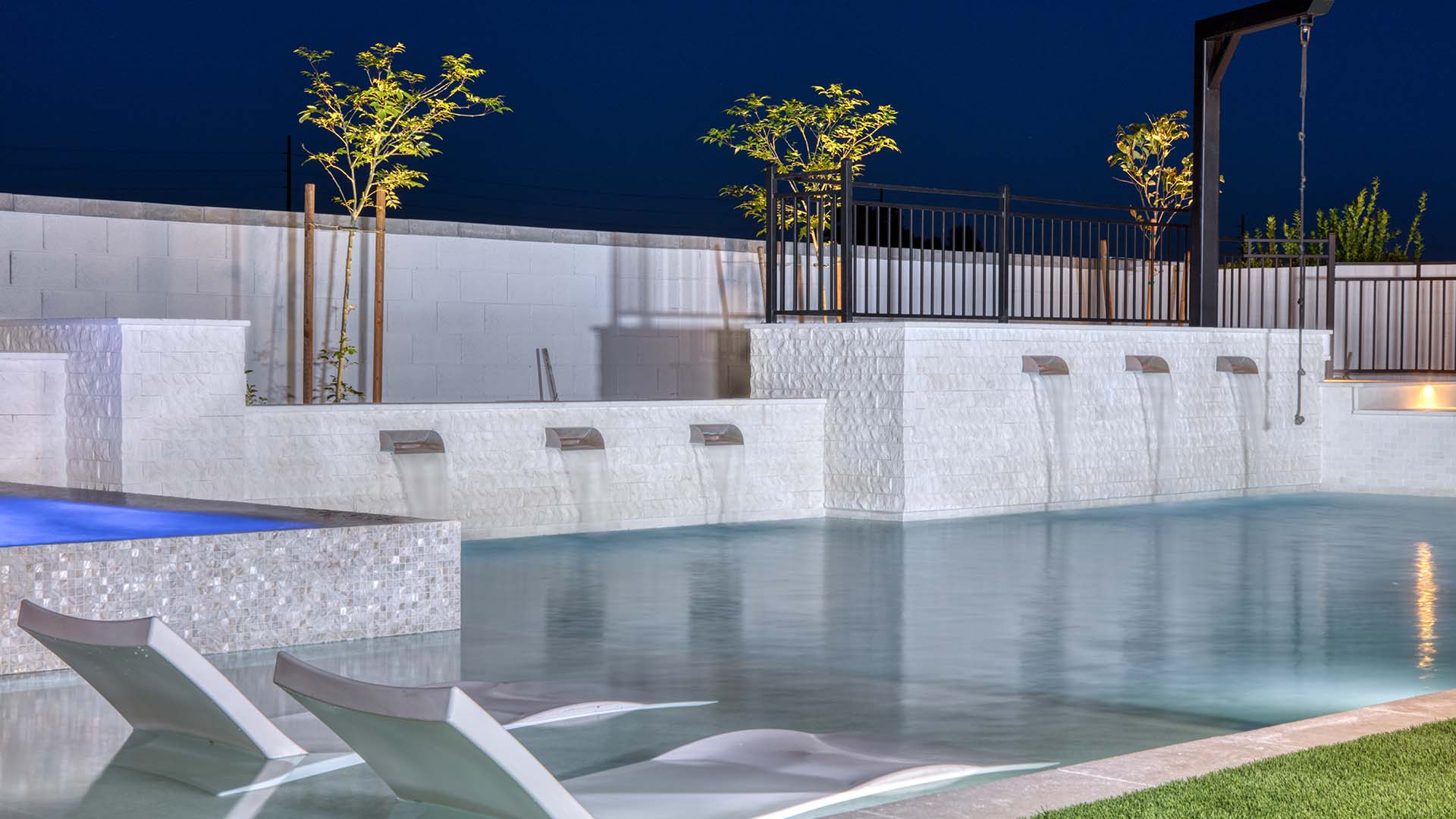 Think Outside The Box When Planning Your UNIQUE Pool And Landscape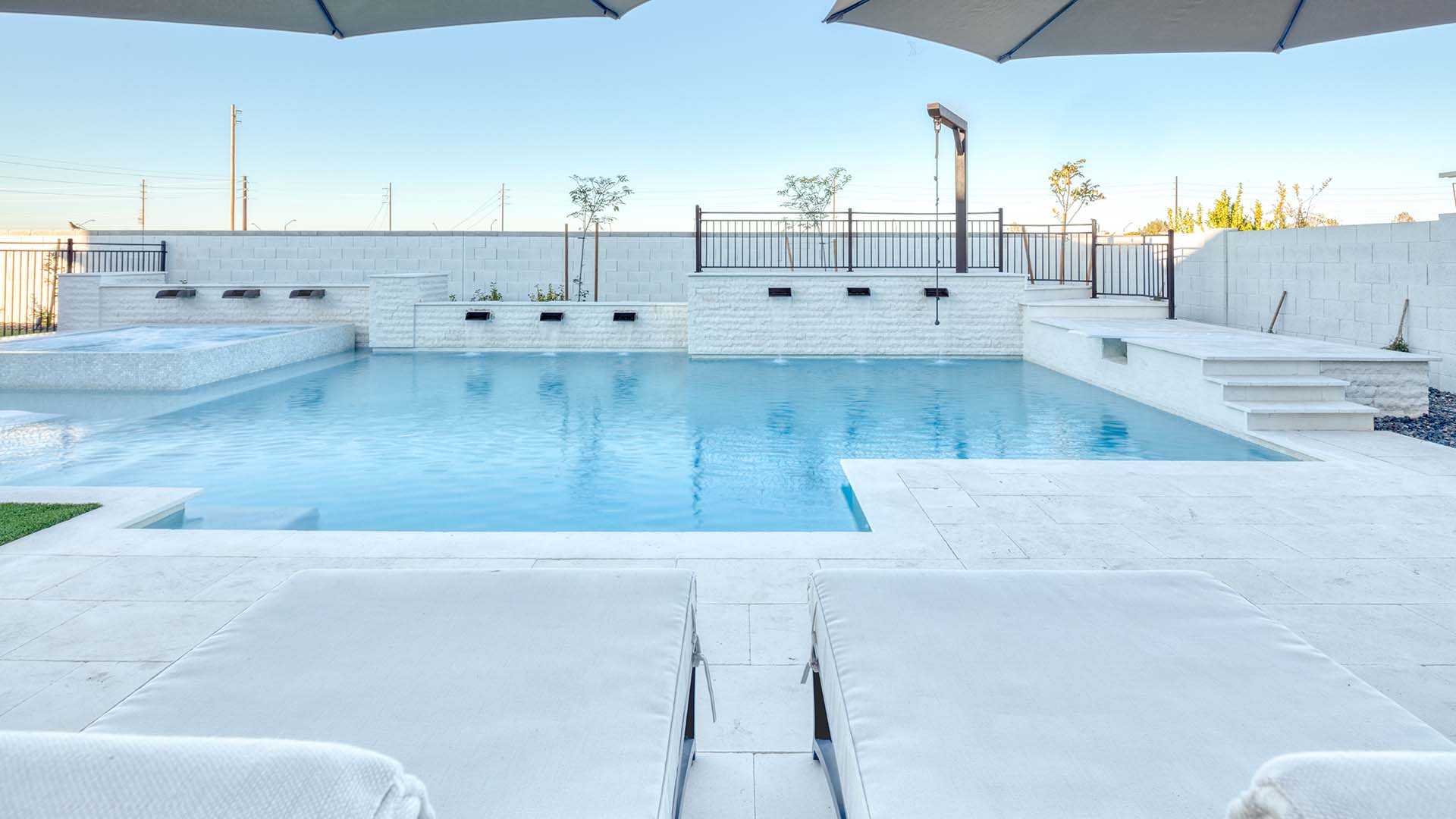 Living in the Phoenix area, it is not unexpected to have a swimming pool and outdoor living space. These are features that add a great deal of function and enjoyment to your time spent at home. And they also do their part to increase your property value. The other aspect that most of these spaces share are one of just a few very typical design themes. There is the very traditional freeform pool with the tropical landscape to recreate a lush lagoon. And equally popular is the southwest theme that often includes a curvy pool with desert plantings and boulders, creating a sparse rugged look. But the new trend hitting the valley of the sun is far more contemporary. It is something more like New York meets Helsinki but in the desert.
Clean Sharp Lines
When you imagine a geometric pool, it does not necessarily mean a boring rectangle or square. There are many ways to add interest while remaining loyal to the 90-degree angles and straight lines. Include water scupper features that create an arching wall of water from a flat surface rather than the craggy shapes created with natural boulders or a grotto. And don't forget to include a Baja shelf for a few sleek modern waterproof lounge chairs. And for the pool decking, square and rectangular pavers continue the very orderly and symmetrical pattern throughout the space. Everything fits and works together in a linear and simple form.
Traditionally earth tones rule the southwest look, while deeps blues and tropical colors dominate the lagoon-style spaces. But when you venture into the contemporary designs, a limited color palette and stark contrasts are used to create impact and interest. White or very light grey travertine replaces the browns and reds of the traditional pavers, block walls, and coping on contemporary pools. And the lighter interior colors create a subtle blue that is reminiscent of arctic scenes with massive icebergs. You can't help but feel refreshed, even before you settle into the inviting lounge chair for a few moments of peace and quiet. The wow factor comes from the serenity of the simple color choices and a massive amount of impact created with the deep and vivid green of the turf panels throughout the space.
Modern Fun Abounds
With white tile and walls, light-colored decking and furniture, and even a muted blue for the pool interior, you might think that this will be a very adult-oriented space. But never fear. There is still plenty of room for contemporary fun in these designs. Spiral staircases, diving boards, and even a rope swing all look perfectly at home in the latest modern outdoor space created by the UNIQUE team. And that is just in the pool area. Other outdoor space features include an outdoor kitchen and dining space, sport court, in-ground trampoline, and a large artificial turn play area.
Does Less Is More Appeal To You?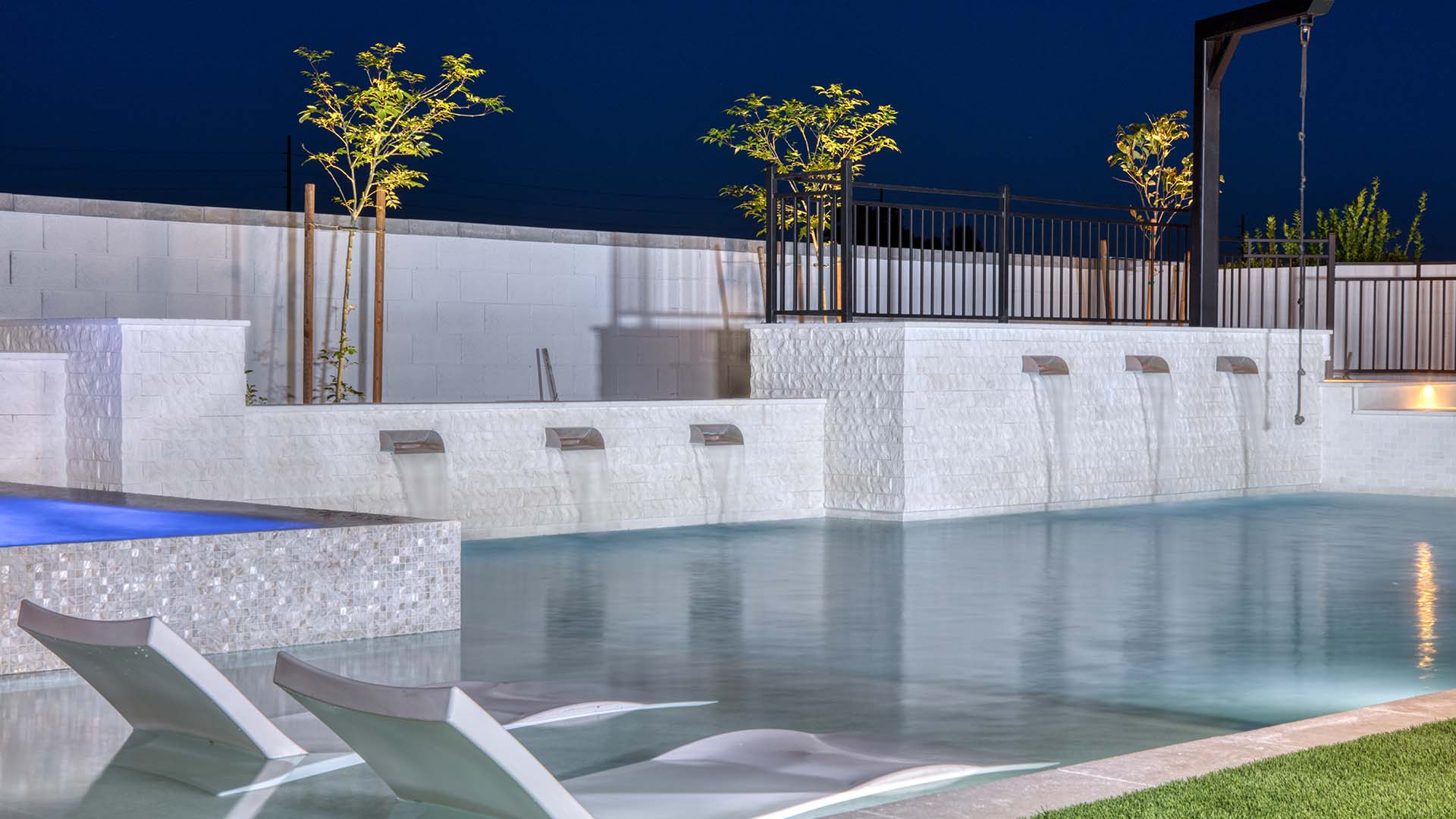 Wrapping your head around a contemporary landscape is not always easy. You might not have a clear image of your space in mind. But that is when you discover the value of working with the design pros at the UNIQUE company. Each design is a custom creation that only comes from the collaboration between designer and client. With your designer's expertise, you can create your ideal, out-of-the-box, modern pool and landscape design that will be the envy of all who visit it. To set up your free initial consultation, call 480-969-1911 or click here.