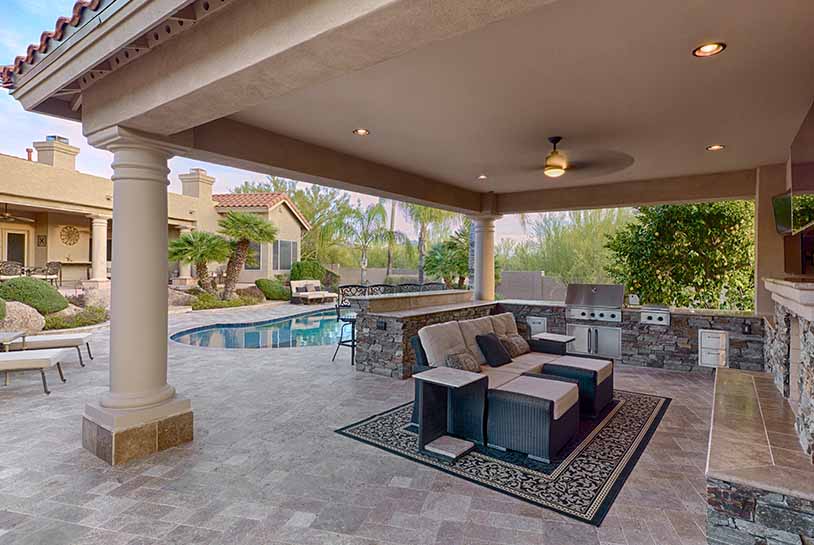 Four UNIQUE Design Tips When Planning Your New Paver Patio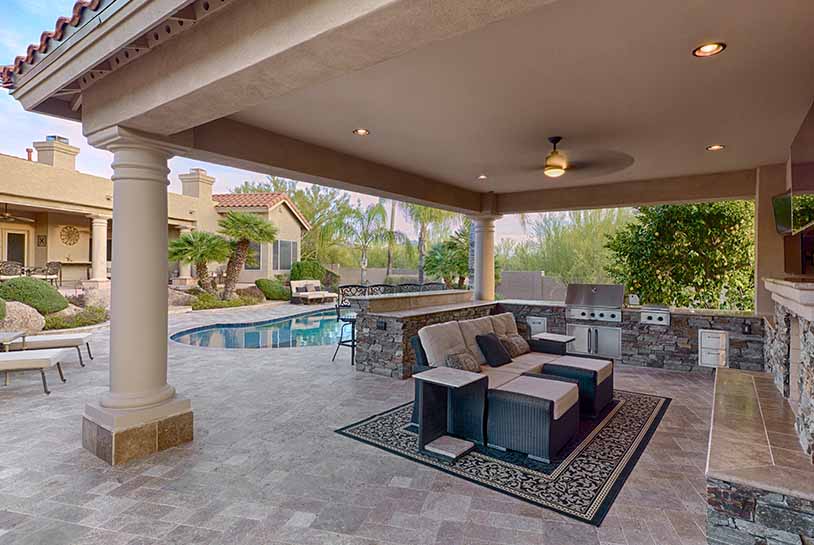 Adding to your outdoor living space is always a great idea when you live in a climate as appealing as the Valley of the Sun. Even though the summer months are quite warm, well, honestly, they can be scorching, there are ways to ensure that your outdoor living space remains comfortable. Increasing your usable square footage to the outside of your home is extremely cost-effective compared to a structural addition to your home. And it is an investment with a very handsome return. When it comes time to sell your home, professionally designed, and installed outdoor living space increases your home's financial value and draws more interest from potential buyers. They will go home and talk about the house with the great outdoor living space, patios, and outdoor kitchen because those features stood out and made the home stand out as well.
Why Opt For Pavers?
Now that you are sold on additional outdoor space, it is time to consider the material for the project. In the Phoenix area, we have expansive soil. And that can make it challenging to maintain concrete patios. Most homes in the area have a concrete foundation. But to overcome the soil's movement, the foundations use a process call post-tension to add stability and tensile strength to the concrete. And that is not a cost-effective option for a patio project. Fortunately, sand set pavers are the perfect solution to expansive soil. They offer a very functional hard surface for outdoor living areas like a kitchen/dining area, lounge space, and walkways to and from the house. And they add a very natural visual appeal with a variety of earth tones, including browns, tans, greys, and even orange and red hues to mimic Sedona's beauty. So now, on with the helpful tips to start planning your ultimate UNIQUE paver patio.
TIP 1- Look At The Big Picture
Knowing that you want additional outdoor living space is only the very beginning of the planning phase. Think of your yard as a whole and develop a mental image of the finished product. Even if you are completing the total project in stages, you need to know where everything will be located. Once the paver patios and walkways are installed, you don't want to realize that you need to dig through the area to install irrigation, lighting, or pool supply lines for the next phase of the project. So take some time and create the big picture. It will allow you and your UNIQUE designer to plan for the future and lay the groundwork for fun features like a pool and spa, shade structure, putting green, or outdoor kitchen. This is also when you can plan to install sleeves for future access to install a mist system for cooling your outdoor living space during the hot summer months.
TIP 2- Bring The Indoors Out And The Outdoors In
As you extend your home's living space, think of indoor and outdoor living spaces as one. The transition from your home to your patio should flow as well as going from one room in your home to the next. Follow the same style and theme to ensure a smooth transition from one living area, indoors or out, to the next. A very rustic patio with bulky hand-hewn wood furniture is not a good look outside a very contemporary loft-style home. You chose the décor and design of your home for a reason, so follow that same style and taste outdoors.
TIP 3 Add Interest And Accents But Don't Overdo It
When adding a large patio or several smaller paver patios, it can be tempting to get creative with the patterns. However, you want the areas to flow well, and significant pattern or color changes will make that impossible. Instead, consider a standard paver pattern and color throughout, with a few accents in focal areas. You might opt for a soldier course border in one area and incorporate a medallion or circular feature in another. But too many features will feel cluttered. Think of paver focal points as you would rugs in your home. A few are nice, but too many make the spaces feel choppy and poorly planned.
TIP 4 Incorporate Other Masonry Features
As you create your long term goals for your new outdoor space, consider adding additional features like a stone fire pit, fireplace, or built-in BBQ island. These features all require a footer to be installed. So they cannot be added after the paver patio without doing some demolition. Besides eliminating wasted money by tearing up the patio, you can plan these features to add interest and color contrast to the paver patio. Flagstone and other natural stone provide a distinct texture and color that will complement the smooth, often darker paver patio.
To learn more about planning your new paver patio and outdoor living spaces, call 480-969-1911 or click here to schedule a free consultation with a UNIQUE design pro. Our designers offer decades of hands-on experience and expertise in creating the perfect outdoor oasis for each of our customers. And they are eager to learn about your hopes and dreams and turn them into your reality.