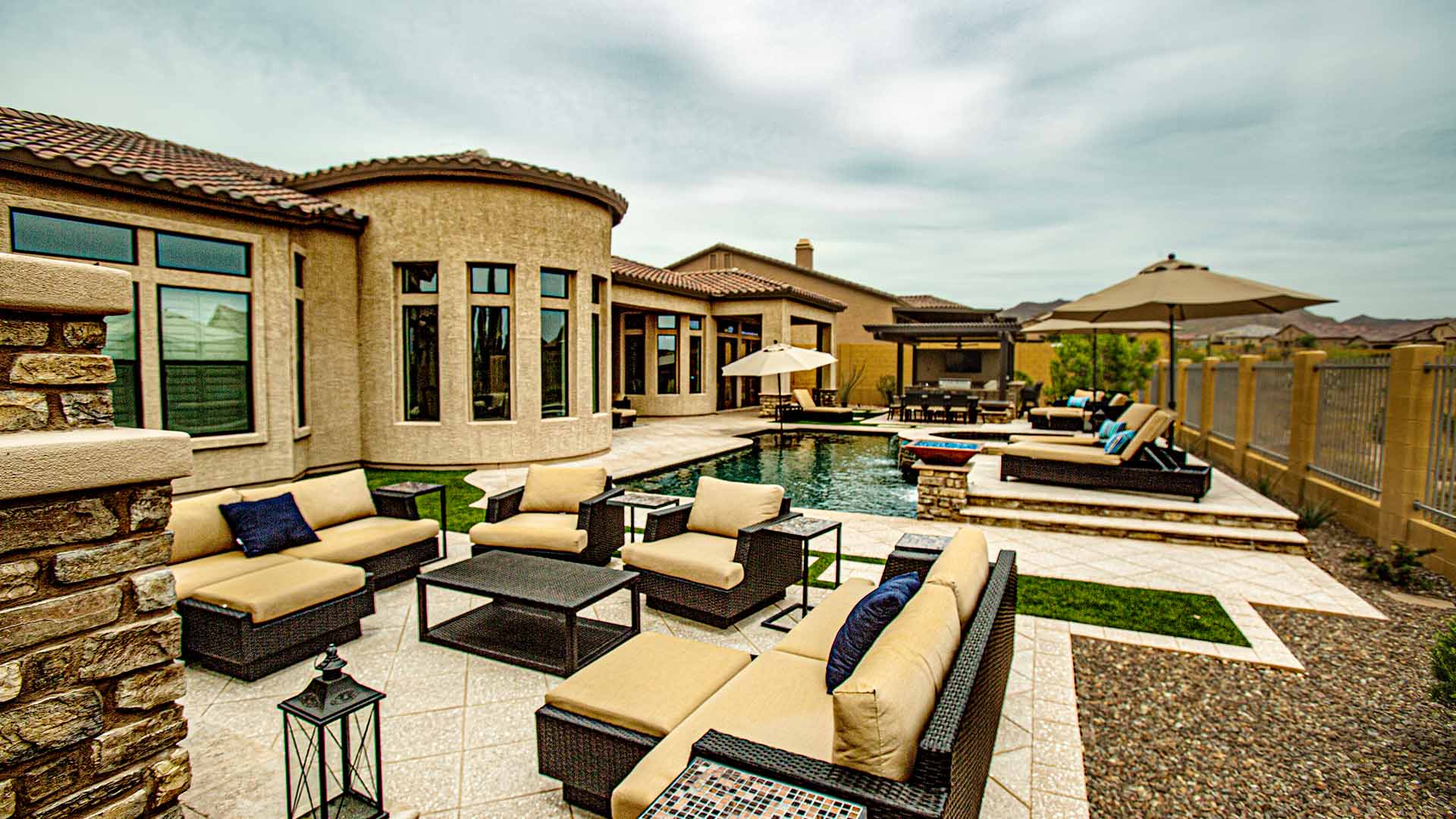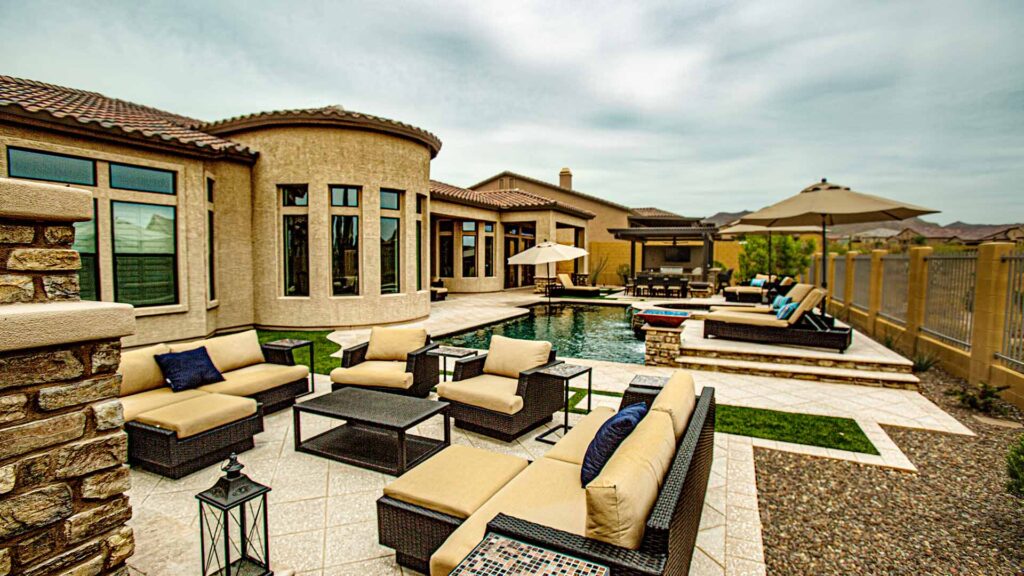 A UNIQUE Look At Landscape Trends For 2021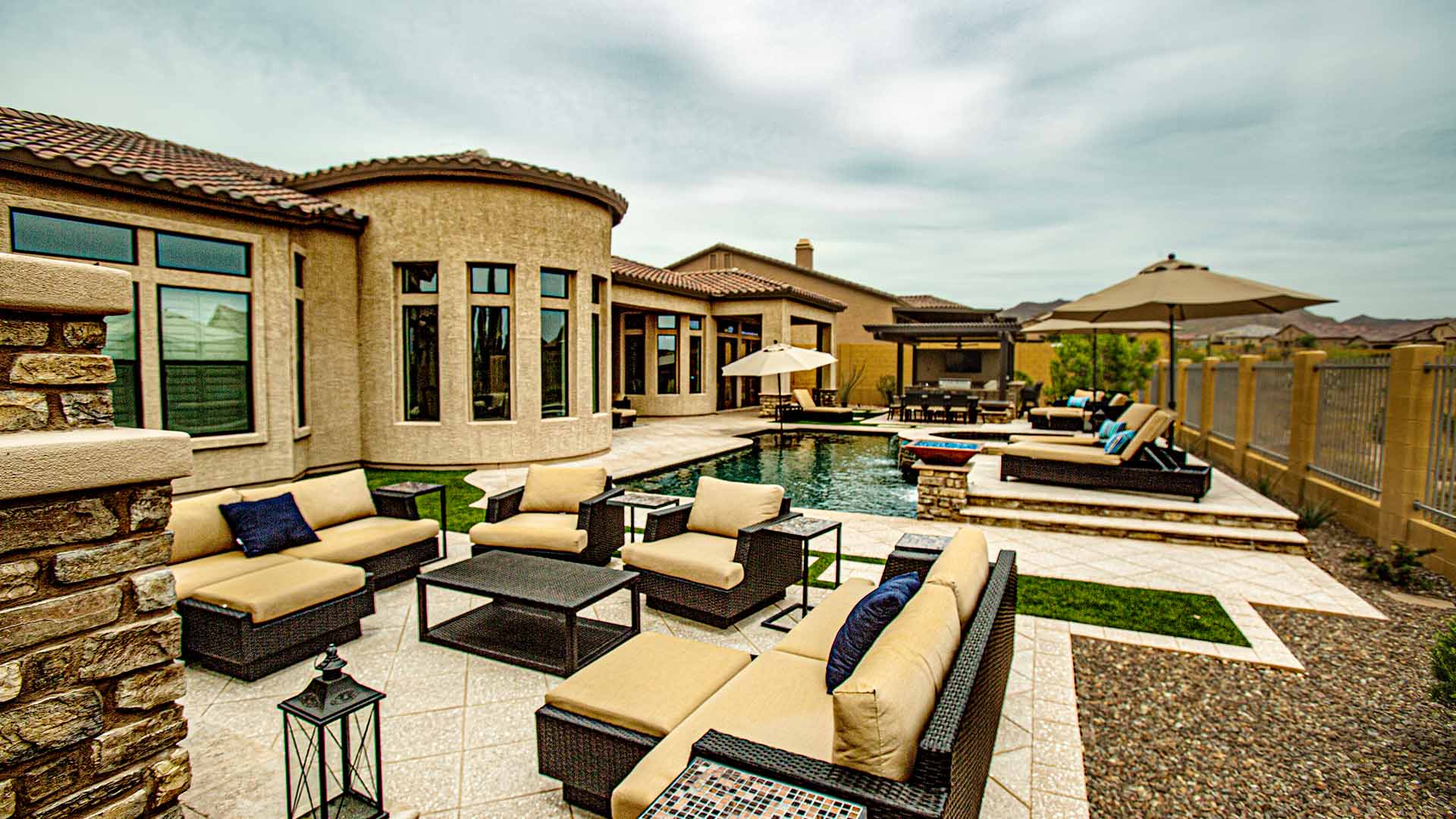 In the past, the ideal outdoor space needed to be lush, green and filled with massive leafy plants and trees. But as we as a society become more focused on balancing our desires with the good of the environment as a whole, our image of perfection has begun to evolve. Fortunately, Phoenicians have the jump on this trend, thanks to years of living in a water-conscious environment. We have been using the term desertscape for years. We know that it does not mean a plant palette limited to the most aggressive plants on the planet, the cacti and agave families.
We also know that less is more in many ways. Less water is a primary focus in our region. And to achieve that goal, many are focused on less natural grass, fewer high water tropical plants and specimens, and eliminating wasteful hand watering. But the secrets that we have already learned are that our outdoor spaces can still be a beautiful, vibrant, and visually pleasing as any of the water-guzzling creations found in other parts of the country. And we might even be far ahead of the learning curve when it comes to creating functional outdoor spaces that add value and living space to our homes here in the Valley of the Sun. Here are a few trends that the rest of the country is working to apply to their regions that can also benefit Phoenix residents.
Replace Natural Grass With Artificial Turf Or Another Feature
For every 1,000 square feet of natural grass that you eliminate from your Phoenix area property, you will reduce your water consumption by over 22,000 gallons of water each year. That is significant financial savings and one that helps our drought-stricken community. But the question around the country is what to do with the 1,000 or more square feet of space that you have staring at you. In our climate, there are two perfect options.
The first is to recreate the same lush green space with artificial turf. This visually pleasing product offers the same rich green as natural turf but never needs water, fertilizer, overseeding, or mowing. It is the grass equivalent to the perfect houseguest. If you have children or pets who love to romp and play in the grass, this is a very viable option. And one that eliminates grass and pollen allergens for anyone who has these sensitivities.
The second option is to convert the grass area to usable outdoor living space. Think of a great paver or flagstone patio to house an outdoor kitchen, dining space, or relaxation nook. The options are far reaching, and the area can be created to meet your wants and needs for additional living space in the great outdoors.
For a UNIQUE twist on repurposing the space, consider adding a rock garden, dry creek bed, or even a self-contained water feature. Rock gardens and dry creek beds are the perfect way to introduce color and texture variations in your yard using different rocks. River rock offers a smooth grey or brown color that can contrast with your granite ground cover. And large pieces of rip rap provide very angular stones and come in a variety of colors to create visual and texture contrast. Finally, if you want to introduce the sound and visual appeal of moving water, think about a small pond or even bubbling rocks to provide a tranquil gurgle to your yard.
Low Maintenance Plants
When you think about low maintenance plants, you will probably start to smile. Everyone would love a yard that pretty much takes care of itself. Large shrubs, trees, and vines all need trimming and care throughout the year. But what you are not thinking about is how most homeowners get those jobs done. Gone are the days of picking up old-style hand trimmers and leaf rakes. We gravitate to the tools that make these chores less taxing. But they are also damaging the environment with emissions from the gasoline engines they use.
In Phoenix, we are very fortunate to have a massive plant palette that needs little or no care and is drought tolerant. Cacti, agaves, ornamental grasses, shrubs, and trees with low water needs and low maintenance requirements abound. And many organizations are devoted to assisting residents in selecting and maintaining these eco-friendly plants. Again, selecting these trendy low maintenance plants benefit you with more free time. And they provide a double benefit for the planet thanks to their low water needs and no emissions from power trimmers and blowers.
Embrace Smart Automation
It can be tough to keep up with the water needs of any landscape. But when you strive to cultivate a low water plant palate, it can be even more challenging. You need to consider the ever changing natural moisture, temperature, and evaporation. And if you are not paying attention, you could find that your plants are dying from too much water or not enough. And rather than tinker with your watering program on your irrigation system, the tendency is to grab the garden hose to accommodate a lack of proper automatic watering.
To avoid all of the pitfalls of over and under watering, the solution is to upgrade to a smart irrigation controller. These systems use the location and current weather conditions and moisture sensors to provide proper watering to all of your landscaping. You can take the guesswork and stress out of watering by letting the smart technology water for the precise conditions in your yard.
As the rest of the country becomes familiar with our way of landscaping, there are sure to be many more trends and tips that apply to the desertscape process that we have embraced for years. This year's focus on removing natural turf, opting for low maintenance plant material that is native to the region, and enlisting the help of smart technology are all good ideas when planning your new landscape. To learn more about these beneficial practices and how to create your perfect outdoor living and relaxing space, call 480-969-1911 or click here to schedule a free consultation with a UNIQUE design team member.