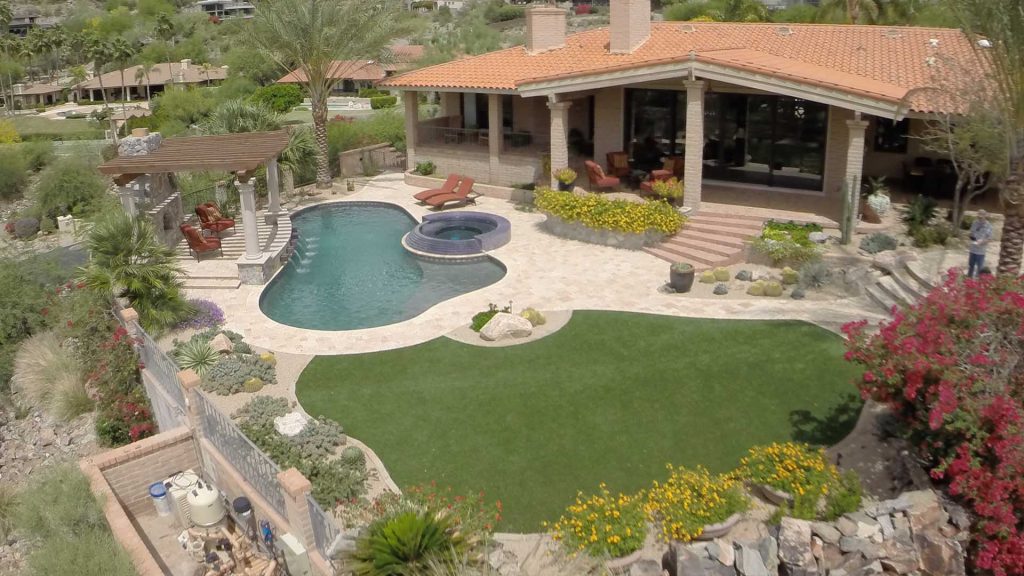 A UNIQUE Look At Environmentally-Friendly Landscapes
As concerns about our environment continue to increase, responsible homeowners in the Phoenix area are looking for more from their landscaping than just a lush look. They are searching for creative and UNIQUE ways to achieve a visually pleasing landscape while still offering environmentally-friendly features. This new green green-initiative is not new to the Valley of the Sun. Xeriscape and low water landscapes have been thriving in the valley for decades.
But now the trend is becoming more mainstream. And homeowners are placing a few essential caveats on these sustainable and earth-friendly designs. They still want to see a variety of colors, textures, and materials. Many also demand the same privacy and feeling of seclusion that was offered by the ever-popular tropical theme. But it needs to happen with plants and other alternatives that do not require copious amounts of water to survive the Phoenix summertime.
Not All Green Is Environmentally Irresponsible
A lush lawn has always been a sign of success and prosperity. We have toiled in the yard to water, mow, and tend our natural grass to achieve that perfect carpet of soft greenery for generations. Kids enjoyed playing in the grass, pets loved a leisurely nap on the lawn, and homeowners beamed as they pulled into the driveway and admired their emerald expanse of natural turf. But the cost of that lush green grass has continued to increase and take its toll on the environment.
Not only does Bermuda grass require a massive amount of water, but just 225 square feet of turf also consumes over 5,000 gallons of water each year. It has other less than eco-friendly needs. Fertilizer must be applied regularly. And while the turf does use some of the nutrients, the rest is washed away and often finds its way to the local wetlands and water table. Then there are the pesticides that wipe out all bugs, the good and bad. And finally, no one uses a reel mover anymore, so cutting the grass involves more toxic emissions being released into the environment by mowers, trimmers, and blowers.
The solution to all of these environmentally harmful situations is artificial turf. This modern wonder looks, feels, and functions like natural turf, but without the need for constant care, feeding, and attention. Think of it as the perfect pet that never barks, sheds, or has an accident in the house. It just wags its tail when you arrive home and is ready to play fetch or cuddle at your request. This perfect, lush lawn never requires a drop of water. And that turf always looks great, never needs to be overseeded, and is never too muddy for kids and pets to enjoy. The average homeowner who replaces around 1,000 square feet of natural grass with artificial will save over 22,000 gallons of water each year!
Go Native When Selecting Your Plant Palette
When you mention native plants to many Phoenix residents, all that comes to mind are a few cacti and agave. But there are many plants and varieties to choose from when creating a low water, high heat tolerant plant palette. From honeysuckle varieties to Fairy Dusters, Verbena, and Mallow, there are many flowering shrubs and perennials that will add color, beauty, and interest to your landscape without requiring substantial water.
In addition to the smaller plants and flowers, you should explore native trees and the palm varieties that thrive in this region, including the Mexican Fan Palms and Mediterranean Fan Palms. These large frond trees can add that lush tropical feel to your pool area without creating massive amounts of debris or demanding lots of water and care.
Hardscapes Are Hard To Live Without
As you plan your environmentally friendly outdoor space, don't forget to include some hardscape and patio areas. The climate in Phoenix is perfect for year-round outdoor living. And added patio and outdoor living spaces are a very affordable way to increase your home's usable living square footage. You reduce the area that requires regular care and maintenance like a plant bed grass, so you will have more time to enjoy your new patio simply relaxing. And once covered with pavers, stone, or concrete, you are also eliminating soil erosion that occurs during high wind and storm season here in the valley. Adding patio square footage is a win for you and the environment in many ways. And finally, adding strategically placed hardscape features like a fireplace, BBQ island, or wall can provide all the privacy you want without the need for watering, trimming, and fertilizing that comes with a living wall.
To learn more about creating an environmentally friendly yard and outdoor living space, call 480-969-1911 or click here to schedule a free consultation with a UNIQUE design team member. Our talented design team brings over 25 years of experience to each and every pool and landscape project they design. Then, that design is passed along to the capable and experienced craftsman who brings your dream to life.