Design
OUR UNIQUE DESIGNS WILL LEAVE YOU BREATHLESS
"Design is everything!" "Everything revolves around a good design!" "The best, most functional, long-lasting projects start with a great plan" – All comments by Chris Griffin, owner of Unique Landscapes & Unique Custom Pools, LLC., and one of the Arizona's most experienced landscape and pool designers. Those comments are the foundation for Unique Companies – and our primary company objective.
Although most of our clients have ideas on what they want, we still emphasize the importance of how we can inject our experience into any concept, making it a good design. There are many variables that factor into the "best" design, all of which require communication, education & collaboration with our client.
CLIENTS ARE FROM MARS, DESIGNERS ARE FROM VENUS. AT UNIQUE, WE ALIGN THE PLANETS.
Communication is important so that the designer can understand all that is desired by the client. A good designer should be able to listen and understand the client's needs & desires, family & lifestyle, finances & budget, and overall project fears & concerns. Unique's designers are just that…Unique. We understand what you're trying to say, not just what you are saying. Our goal is to give you want you want in your design, then WOW you with some fine-tuned touches you haven't thought of yourself.
Education is our method of informing the client what we know as designers. As designers, it is important to educate our clients on what is available, current trends, and other ideas that they may have not considered for their project. Unique Companies handles so many aspects of construction, we are always learning – but, for the most part, we know the best long-term way of installing everything we offer.
Collaboration is the "dialogue" between clients and designer that accomplishes the best designs. Most customers are used to "monologue" from designers, and never really get a design that fits YOU. It is virtually impossible for any designer to create the "perfect backyard" or "best pool design" without the collaboration process. Our ideas, coupled with your ideas, are how YOUR dream backyard is created. Every project is different, every project is UNIQUE, and we are experienced in handling all aspects of landscape and pool design in Arizona.
A UNIQUE PHILOSOPHY
The "UNIQUE" Arizona landscape design philosophy is one of the best Experiences in the valley. We start with a complementary, on-site consultation where our experienced Arizona landscape designers will introduce themselves & our company. At this appointment, we get to know the client, your overall project desires, goals and budget. We can then provide a free estimate for those shopping around, or collect a small design deposit for a full color rendering for those who are ready to commit to a project design. Your designer then will take your ideas along with his design expertise & produce a first draft of your landscape design. Once this draft is completed, your landscape designer will then arrange an appointment to review your plan with you. After some collaboration, your landscape designer will then move into producing a "FINAL" Arizona landscape design for you. In other words – we listen to you every step of the way. That way, we know you're getting what you really want!
Once everything is designed to your satisfaction, this design then becomes the "working" plan for the layout and building of your outdoor project. A construction & permitting version, height and detailed specifications, and field copies are then pulled from this rendering. This enables our crews to build everything to scale and to the exact precision that we intended it, so that you can enjoy your outdoor project for years to come.
SEE IT IN 3D – AND YOU DON'T EVEN NEED THOSE SILLY GLASSES!
Don't settle for a "sketch"! Most companies do business with a hand drawing and sketch of what they areproposing. Not at Unique! This practice only allows for complications and failed expectations. More often than not, the actual finished product looks nothing like the buyer expected, and it's too late to do anything about it. Furthermore, it is difficult (and nearly impossible) to compare price and "value" unless you have something accurate & detailed.
SEE MORE OF OUR 3D DESIGNS HERE!
YOU KNOW WHAT TO EXPECT – NO SURPRISES!
Unique has always believed in showing our clients exactly what they are buying, and then showing our installers exactly what they will be building – so that expectations are met 100% of the time. To do so, we produce full color computer-generated Arizona landscape designs for each of our clients. These graphic designs allow our clients to see a realistic presentation of colors, textures & overall concept. All of our BBQ's, fireplaces & custom features are illustrated in 2D, and sometimes 3D, giving our clients a glimpse of what to expect before you ever sign contract, or start construction.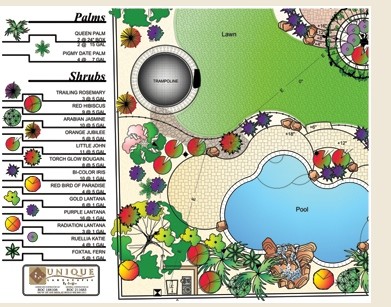 Demand Precision – It's easy today to fire up the computer and draw some lines, paint some colors, etc… Don't be fooled by an imitation, or inaccurate design. Most companies will "sketch" up something, and then build it a little different. In fact, there is no way to supervise the construction on any project without a precise & detailed drawing. To remedy these common errors from design to construction, Unique Companies uses AutoCAD (software that is widely used across the architecture/design, engineering, computer & construction field). This program is precise down to the fraction of an inch, and meticulously setup to ensure accuracy on our projects, which ensures that our landscape and hardscape installations actually look like our Arizona landscape designs. Furthermore, we have additional software capable of putting any project into VIRTUAL 3D, so the owner can understand what their oasis will look like, prior to job commencement. Imagine being able to walk through your new backyard, hear the water features going, see the fire burning, and get a bird's eye view of the entire project – all before you make any final commitment. We can show you – just ask.