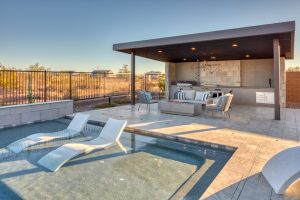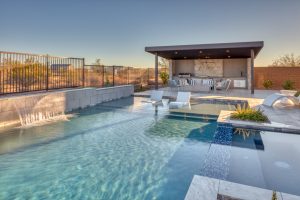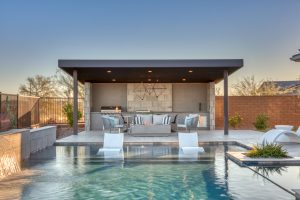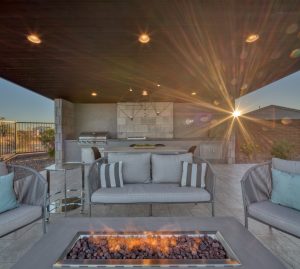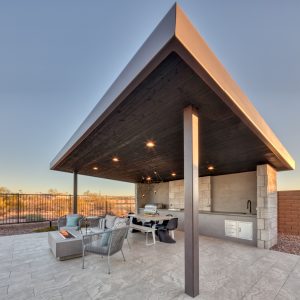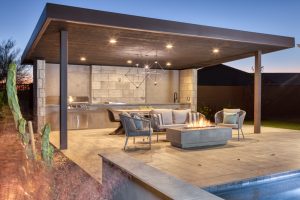 January 28, 2021
Welcome to the Desert Oasis in Phoenix Project
The design of this desert oasis located in Phoenix – Sky Crossing is all about blending the natural beauty of the surrounding rugged vista with the clean and modern lines of a resort-quality outdoor living space. This design offers everything any homeowner could want or need for a day of relaxing, an evening of entertaining, or a staycation to recharge and rejuvenate from the stresses of the outside world.
Most homeowners are quite pleased to enjoy a single focal point or crown jewel to anchor their outdoor space. But this project exceeded that standard by providing stunning twin features, making it somewhat of a Gemini. According to lore, Gemini articulates a dual nature, allowing a view or perspective from two angles. And that is precisely what this one of a kind living space offers. Visitors can enjoy the refreshing pool and spa with its Zen-like properties, tranquil sheer descent water feature, and ergonomic in-pool lounge area. Or guests can retire to the outdoor covered living space, relax by the Grand Effects Aura fire pit or enjoy a fantastic meal al fresco.
While intimate and inviting for two, the space is equally capable of providing the backdrop for a small dinner party. The light earth tones feel authentic to the area while also functioning well with the homeowner's more contemporary design taste. Professional quality cooking features in a bold stainless steel complement the geometric lighting fixtures that elude to the space's jewel-like spectacle.