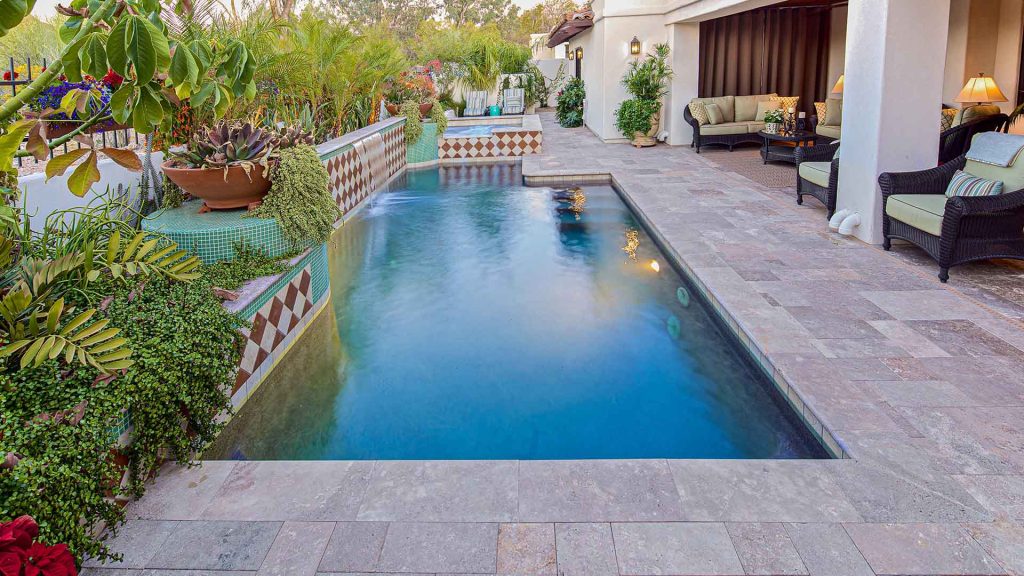 As the summer temperatures in Phoenix begin to reach over 100 on pretty much a daily basis, it is important to know how to keep your outdoor living space as cool and enjoyable as possible. The valley is a great place for outdoor living, and with a few helpful tips and features, you can enjoy being outside year round in comfort. Everything from shade structures, to landscape selections and cooling systems, can work together to provide you with a great outdoor living space even in the peak heat of August. Contact a UNIQUE designer at 480-969-1911 to learn more about how we can help you create your perfect outdoor oasis.
Your landscape plant and tree selections will have an impact on your level of comfort when enjoying your backyard in the summertime. Larger plants such as orange jubilees, oleander and sage can provide a much needed natural screen to block the sun from seating areas as well as play areas. But unlike walls or other solid structures, plant material allows air to circulate. On the days when there is a breeze, you will still enjoy it, as well as the shade from these larger plants. Shade trees, such as the Sissoo, Tipu, Arizona Ash, Shamel Ash, and Brazilian Pepper will also provide much-needed shade and add beauty and privacy to your outdoor living space. Strategically places shade trees can even help to lower the cost of cooling your home.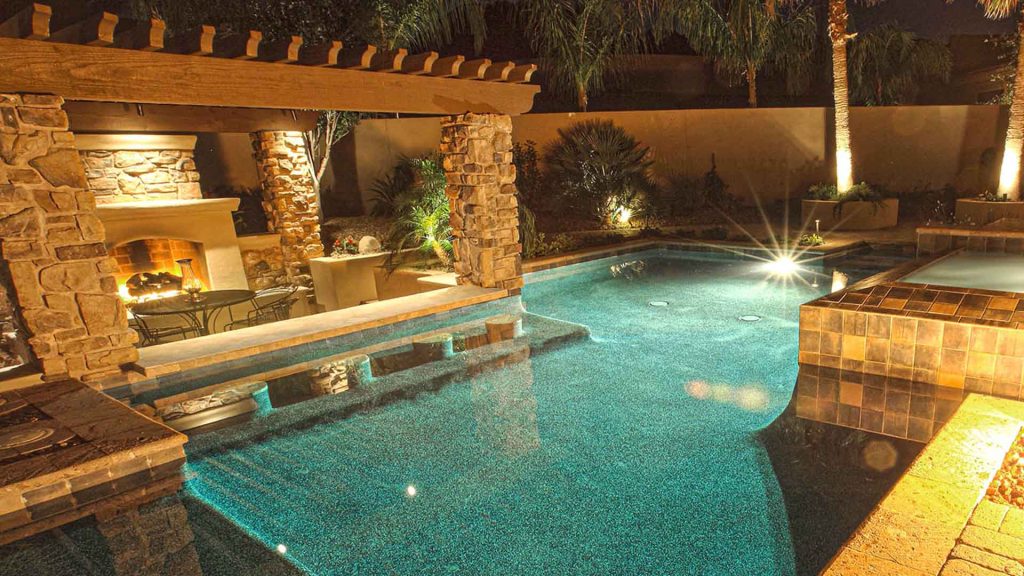 Shade Structures Add Functionality and Comfort
There are many types of shade structures that you can add to your Phoenix backyard to make it much more comfortable in the hotter months of the year. Pergolas, Ramadas, gazebos, and covered patios are all great options that can be custom designed to complement your homes architecture style and your lifestyle. And not only do these structures help keep the heat off in the summer but they also provide shelter from the rain in the wet season and protection from the cooler wind in the winter, making them a year-round benefit.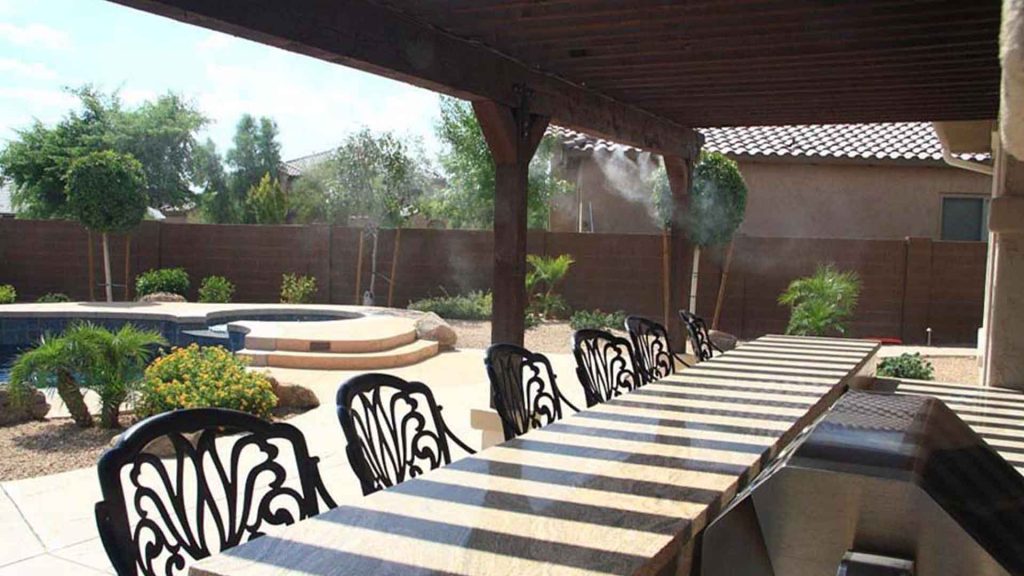 Include A Mister System To Cool Your Outdoor Living Space
A professionally designed and installed mister system can completely change the feel of your outdoor living space in the summer time. There are some do-it-yourself systems out there that claim to be the perfect solution, but in the end, only a professional design and professional quality equipment can really keep the heat of a Phoenix summer at bay. The UNIQUE design team knows how to eliminate issues such as wind, overspray and large droplets of water which create puddles and a safety hazard. Walking into an area with a professionally designed and installed misting system feels almost like walking into your air-conditioned home.
Portable Cooling For Your Backyard
An evaporative cooler is a solution that you can move throughout your yard to cool a small area. All you need to provide is power and a water supply so that the unit can draw in the hot, dry air and cool it by blowing it through a wet filter. This unit can be used in open areas as well as on a patio or even in a garage when the door is open.
Two Features From Indoors
As you are creating your ideal outdoor living space, don't forget to add two important features that you have inside your home. The first critical item is a ceiling fan. This helps to keep air circulating on covered patios as well as inside any shade structures such as a Ramada or gazebo. Plan early for these features by including an electric drop in the ceiling. Also, be certain that the structure will support the weight of a ceiling fan. The last feature to cool you down quickly is an outdoor shower. Just a few minutes in the cool water and you are refreshed and ready to relax. This feature also is a great way to be certain that everyone rinses off before getting into your pool. This will go a long way in helping to keep your pool water manageable.
Adding some or all of these cool features to your backyard is a great way to ensure that you will enjoy outdoor living even in the hottest part of the summer. Call 480-969-1911 to schedule a free initial consultation with a UNIQUE designer to learn more about these great features and how to incorporate them into your yard. As a full service pool and landscape contractor, the UNIQUE Companies can meet all of your needs for pool, spa, and landscape design and construction. Our in-house team of craftsmen will custom build all of the features and spaces to turn your dreams into your reality.